Family Adopts 146-Pound Dog &10 Months Later He Looks Completely Different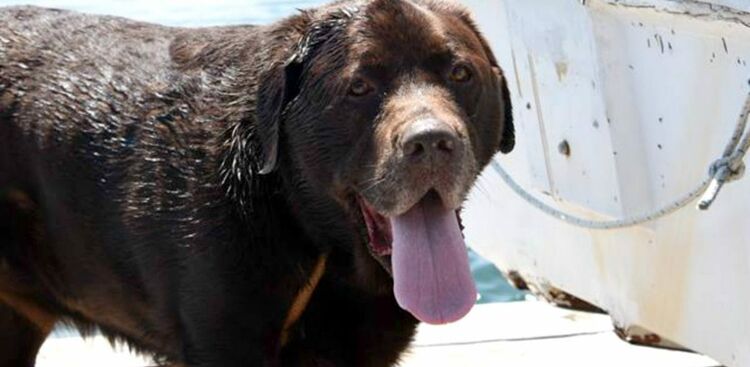 I'll be the first to admit that my dog is a tad overweight thanks to one too many table scraps. But she's nothing compared to Shiloh the chocolate Lab. This adorable 8-year-old pup weighed a staggering 146 pounds when he was adopted by Heidi Fiore and her family.
Heidi's family had lost their precious Lab and wanted to adopt another one once the time was right.
"We lost Jasper about three months before we got Shiloh," Heidi told LittleThings. "I was not looking for another dog so soon after losing Jasper but I felt a connection to this Lab on Facebook." They went to see Shiloh the very next day and it was love at first sight for both dog and humans, who took the hefty boy home.
The family wants to make sure the chocolate Lab lives a long and healthy life so they've set out on a weight-loss journey.
"Initially, the intent wasn't to adopt him to lose weight because we didn't know how heavy he was until we met him. His personality won us over immediately, and I had a strong feeling that we could help him," Heidi told LittleThings. "We understood that he may have major health issues because of his weight but after very little discussion we decided he was right for our family."
In just 10 months, Shiloh shed 60 pounds and is looking better than ever — he even has a pep in his step!
Keep scrolling to see the Lab's amazing transformation.
Thumbnail Photos: Facebook / Keeping Up With Shiloh // Facebook / Keeping Up With Shiloh
Facebook / Heidi Fiore
Heidi Fiore wanted her family to adopt a dog after losing a pet. When she saw a Facebook post for an overweight chocolate Lab named Shiloh, she knew he was the dog for them.
"We were in shock when we saw him, he looked like a bear, but he was so happy and sweet with love in his eyes," Heidi told LittleThings. "We had never seen a dog so overweight."
But Shiloh wasn't only a few pounds overweight — he weighed twice as much as he should have. At 146 pounds, he was obese and needed help — and Heidi was more than happy to assist!
Facebook / Keeping Up With Shiloh
As you can see, Shiloh is much, much larger than the family's other Lab, JR, who recently passed away.
"We didn't tell any of our three kids, Corey, Callia, and Freddy, until after we brought him home," Heidi told LittleThings. "We surprised the two youngest when they came home from school. Our daughter asked 'What is that?' when she walked in!"
The entire family got involved with Shiloh's weight loss and their love helped transform him. "The kids accepted him right away, and they have helped throughout his weight loss," Heidi said. "They understand not to give him table scraps, we go on many hikes and walks on the beach or around town."
Heidi Fiore
The entire family started taking him on multiple walks every day to help him lose weight. But it wasn't always easy for Shiloh.
"When we first got him he couldn't even make it down the street without multiple breaks," Heidi told LittleThings. "He would plop down on the ground and not budge for anywhere from five to 30 minutes."
Thankfully, Shiloh didn't have any medical problems because of his weight.
Heidi told LittleThings:
He has never shown any distress from sore joints, in fact he does not seem to have any health problems (yet) from his obesity. He had a sore on his neck where his collar went around his neck folds/fat rolls, which has since healed — so we do not put a collar on him, we just use a slip lead for walks. His lower eyelids drooped way down from the weight, but they seem to be normal now.
While Shiloh was severely overweight when the family got him, Heidi told LittleThings that she in no way blames his previous owner. "They did the best they could but could no longer care for him when her husband became sick," she said.
Along with walks, the family put Shiloh on a strict diet.
Photo credit: Little Things