Adele Encourages New Moms After Friend's Postpartum Psychosis Diagnosis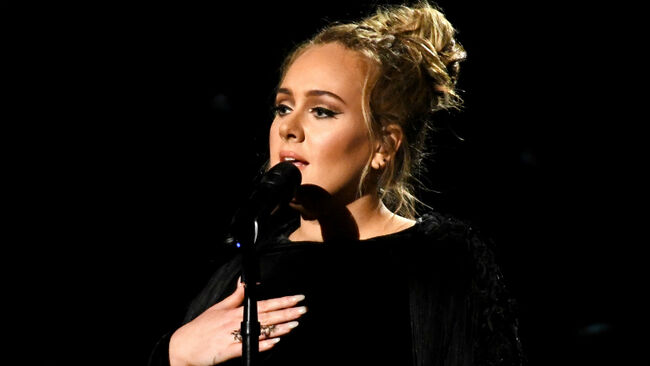 Adele has a message for all new moms: Don't be afraid to speak up about how you're feeling.
On Monday (August 13), the "Hello" singer revealed that her best friend Lara Dockrill suffered from postpartum psychosis after giving birth to Adele's godson six months ago. While pointing her fans' attention to her bestie's blog post, which detailed her postpartum experience, Adele also took time to encourage other new moms to express how they're feeling.
"This is my best friend, she captioned a smiling photo of her and Laura. "We have been friends for more of our lives than we haven't. She had my beautiful godson 6 months ago and it was the biggest challenge of her life in more ways than one."
"She has written the most intimate, witty, heartbreaking and articulate piece about her experience of becoming a new mum and being diagnosed with postpartum psychosis," she wrote, before asking fellow mothers to speak up about what they're going through. "Mamas talk about how you're feeling because in some cases it could save yours or someone else's life x Link in my bio to Laura's story."
In her blog post, Laura described her personal experience with postpartum psychosis, which is a serious mental condition that affects 1 to 2 of every 1000 women after giving birth. As Laura explained, many women can face a range of mental health issues, which usually occurs suddenly within two weeks after giving birth.
"In my case," Laura shared, "it was built upon post natal depression and exhaustion and escalated into a phase of what I can only describe as hell; mania, mood swings, insomnia, delusions, paranoia, anxiety, severe depression with a lovely side order of psychosis."
According to Postpartum Support International, postpartum psychosis symptoms can include, delusions or strange beliefs, hallucinations (seeing or hearing things that aren't there), feeling very irritated, hyperactivity, decreased need for or inability to sleep, paranoia and suspiciousness, rapid mood swings, and difficulty communicating at times.
After seeking help, and getting proper treatment, Laura said she now "fights" for her happiness every day.
"I've never held onto anything as tight as my life. I was so desperate for help, I felt like I was racing my own life- trying to save myself before the 'psychosis me' did something stupid to me and I'm so glad I cried out because now life is back swwweeeeettt again boy," she wrote. "As long as I'm vocal and honest about my emotions and what's going on in my brain- which at times is hard- particularly to my loved ones, it keeps me safe and that is what's important."
If you or someone you know needs help, call 1-800-273-8255 for the National Suicide Prevention Lifeline.
Photo: Getty Images