Cole Sprouse Left A Thirsty Comment on Lili Reinhart's Instagram
Cole Sprouse and Lili Reinhart have managed to keep their relationship pretty low key, despite starring in one of the most popular teen dramas in recent history. AKA Riverdale. Every now and again, though, fans catch the pair doing something couple-y on social media. When Lili posted some gorgeous photos from her shoot with L'OFFICIEL NL Magazine, Cole couldn't help but leave a hilariously thirsty comment.
Eagle eyed fans caught Cole's comment, simply writing "a/s/l?" For those of you who weren't using AIM chat rooms in 2007, a/s/l stands for age / sex / location. Urban Dictionary hilariously describes the term as "The mating call of the barely post-pubescant teenager." Nothing like trolling your girlfriend with internet slang of old!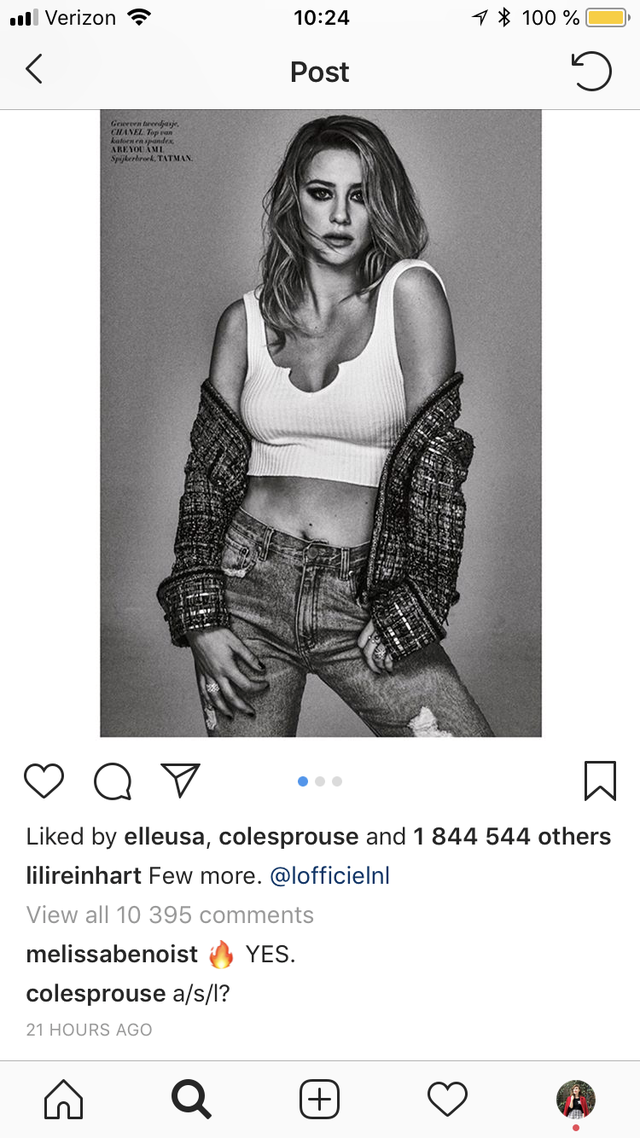 Mädchen Amick, who plays Alice Cooper on Riverdale, spoke about how cute Sprousehart is behind the scenes. "It's great. I mean, they didn't talk about [their relationship] the entire time, until just recently," Mädchen told Entertainment Tonight. "So, it's nice that they're able to now, like, be public with it, so it's not so under wraps...they're so sweet with each other and they're both just exceptional people."
Lili also recently wrote a sweet note to Cole on his birthday, confirming Mädchen's description of the couple. "It seems as if the world would still be a stranger to me, if not for you," Lili's caption read. "I'm so thankful that our paths intertwined to form this beautiful adventure." She even called him, "my love." Le sigh! They're just so darn cute.
Lili spoke to Harper's Bazaar about her decision not to discuss her private life publicly. "I'm not okay talking about my relationship," Lili explained. "I'm not going to tell you my love story. That's just not appropriate right now."
She might not talk about her love story with Cole in interviews, but sneaky Instagram comments have definitely gotten the green light from these two.